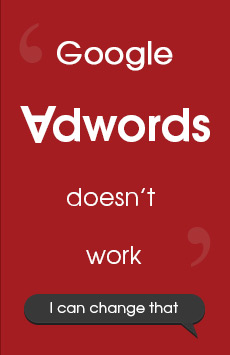 It's a very simple thing to create an Adwords campaign that generates visitors.
It's not so simple to turn traffic into customers.  I turn traffic into customers.  Which, remember, is the whole point of your Adwords investment – customers, not just visitors.
There are two reasons why "Adwords doesn't work" for companies:
The people who built your campaign were technical, they weren't direct marketers.
Adwords seems so simple "you ought to be able to do it yourself."  Adwords is simple. But as you may have found, it isn't easy.  At least, it's not easy to turn website visitors into customers.
Yes, if you approach Adwords this way. . .Adwords won't work.
Here's why Adwords matters. . .
In fact, here's why Google Adwords MUST be a part of everybody's marketing efforts, including yours –
With every day that passes more people search online for what you sell (it's how you found me).
You need to be easy to find when people search online.
To be easy to find you need to be on Page 1 of Google's search results.
To be on Page 1 of Google's search results you have two choices: an Adwords campaign; or SEO (Search Engine Optimization).
Adwords is immediate.  You can be on Page 1 tomorrow.  SEO, done right, takes months and months.
Plus, you're nuts if you invest in months and months of SEO before you know which search terms convert (bring people onto your site who convert into customers).
The only way you'll know which terms convert is to test search terms; actually bring people onto your site via a variety of search terms and test.
The only reliable way to do this in the short-term is with Google Adwords.  THE.  ONLY.  WAY.
Therefore, you CANNOT afford NOT to have an active, productive Adwords campaign working at all times.
Which brings up the question:
How can you create an active, productive Adwords campaign if Adwords hasn't worked for you?
The short answer is: hire me.
The medium answer is: hire me for three months to get your Adwords campaign into shape AND to train you or someone inside your company at the same time to take it over.
The whole answer is: here is what those three months look like:
The first step is to build or rebuild your campaign. You'll need to grant me access to your Adwords (if you have one) and Analytics accounts. And I require my clients to add a session recording tool to their sites (about $15 per month — a simple piece of JavaScript gets added in the header of your site's pages). I'll ask you lots of questions and spend time in Analytics understanding what has been happening on your site.
Building your campaign, of course, includes building Ad Groups, writing ads, doing keyword research, setting bids and creating tracking metrics (goals and/or events).
I also create content for landing pages. If you have a WordPress site or standard HTML site, your web developer will have little or no involvement in what I've described so far. If your site is older, you're on a complex CMS platform or your developer is anal about having people touch your site, plan on some additional expense for a minimal amount of your developer's time.
Once a week I manage the campaign on a designated day and time. I invite someone from your company to be part of each management session via screen sharing. They can watch and understand everything I do and why I do what I do. I train as I manage. This is not unlike the old-school apprentice approach, and I find it works extremely well. It works well because the work process is so important in the overall success of your Adwords campaign.
Each management session starts in Analytics to understand what happened, moves to Google Adwords where we fine-tune ad groups, search terms, bidding and ads. We end with making changes to your website content if necessary.
The last two management sessions of month three I let the student "drive" and I observe, correct and offer feedback.
At this point the individual I trained is fully capable of managing your Adwords campaign on a weekly basis. Many clients choose to bring me in for a single management session once a month or once a quarter to lend an extra pair of eyes.
Fee: $1500 per month (click-through charges paid directly to Google and the cost of the session recording tool are additional)
If you'd like to talk more about your needs or exactly how this works, email me and let's set up a time to talk by phone. Or if it's during regular business hours (Mountain Time) give me a call, perhaps we can talk right now: 480-948-0029.
Why hire me to manage your Adwords campaign:
I am a direct response marketer. Direct response means you focus on causing people to respond; to take an action you want them to take. Google Adwords is direct response marketing in its purest form.
I've been doing paid search since before Google Adwords existed. In fact, I sat at the knee of employee number three of Overture for two days (Overture invented paid search). And I have sat at the knee of several others over the years who know far more than I do.
I generate on average 350 leads and $1.5 million in sales every month for my Adwords clients.
I focus both on getting people to your site and on converting them once they're there. Ask around, most people don't do both, and without both you won't get results.
I'm a Google Adwords Certified Partner.

If you'd like to talk more about your needs or exactly how this works, email me and let's set up a time to talk by phone. Or if it's during regular business hours (Mountain Time) give me a call and if I'm available I'd be happy to talk to you: 480-948-0029.
Why Most Internet Marketing Fails
I can teach you
what I know about
Internet Marketing Or
I can do it for you
Most internet marketing fails because the people doing it stop before they're successful.  So, it isn't a surprise when people say, "Oh we tried that and it didn't work" when I first mention PPC.  Either you need to get very good at sponsored search and conversion marketing or fine someone who is.
I can teach you what I know if you have the time and interest.  Or I can do it for you.  Either way you won't easily find someone with both my experience with sponsored search and conversion marketing AND who has the type of background in direct response marketing.
Give it a try for six months.  A good, thorough, integrated try.  If we can't make internet marketing work for you in that period of time, either it can't be done, or we can't do it together and you should find somebody else.
Make sense?  Send me an email, right now, while you're thinking about it.  Doing nothing assures the same results next month you had last month.  Doing something, like sending me an email and starting the conversation, means something can change.
Let me manage your Adwords campaign AND teach you how in the process
Learn how to use
Analytics & Adwords
to improve traffic
I do it all. Strategies for keywords, bids, Ad Groups. I write the ads. I optimize the landing pages.
Then, I manage and optimize the campaign weekly.
We meet via net meeting once a week for 30 minutes.  You will watch me manage your campaignYou'll learn Google Adwords and Google Analytics to drive traffic to your site.  You'll learn landing page optimization because you need to convert people into leads once they're there. You need to learn BOTH.
You'll learn my work process, one step at a time, from identifying your strong and weak keywords and adjusting bids and ads accordingly, to updating landing pages and managing Ad Groups to maximize your Google Quality Score.
Fee: $1,250 per month for months one through three.  During this time I share my screen with you on each weekly management session and talk you through what I do and how I'm doing it.  You won't know everything I know about Adwords after three months, but you will have my work process down.  And the work process is something I've learned from some of the best paid search people out there and refined after hundreds of weekly management sessions.
I also offer a smaller $395 per month relationship where I manage your account once per month, with you there watching and asking questions.  You are up there doing the work the other three.  I am also available for questions in between my management sessions via email.
I each case you pay Google for click-throughs direct.  This gives me time to iterate enough times to get through the testing phase and into the optimization phase, both on your Adwords campaign and landing pages.
Conversion Marketing
A cool looking website that doesn't produce leads is like a cool looking brochure that doesn't convince anybody to do anything.  Neither convert.
This is a hugely important part of your marketing.  Think about this.  If your conversion rate is .5% (a half a percent), for every 5,000 unique visitors to your site you will convert 25 of them into a lead.  If typically 25% of leads turn into customers, you can expect five new customers.
If you want 10 new customers you have to attract twice as many unique visitors.  If your cost per unique visitor is in the two to three dollar range (not uncommon), you need to spend another $10,000 to $15,000 generating traffic.  Or, you need to take your conversion rate from .05% to 1%.
The keys to conversion marketing are:
Understanding the buying cycle and what information people need when
Simplifying around a few key things people want to know
And then testing, relentlessly testing
The best marketing for small business is internet search marketing.
PPC is
the fastest and
the least expensive method
I present a complete discussion below.  Here is the short version for the reason why it's the best marketing for small business:
Most people include the internet in their search for what you sell.  The great thing about the internet, the thing most responsible for its unprecedented growth as a marketing medium: TIMING.  That is, internet search marketing lets you put your ad in front of people when they're searching for what you sell.  My blog post on the power of timing.
The fastest, least expensive path from where you are now to generating traffic for your site is a sponsored search marketing campaign (also called pay-per-click).  This brings qualified people to your site (half the battle) WHEN they are looking for what you sell.  The other half of the battle is converting visitors into leads.  Obviously, you need both.
There are two basic parts to good internet search marketing
Generating traffic to your site
Converting that traffic into leads (getting visitors to take some action once they're there)
There are two basic ways to generate website traffic: organic search, sometimes called SEO (search engine optimization); and sponsored search, sometimes called PPC (pay-per-click) or SEM (search engine marketing).
Generating Website Traffic Via Sponsored Search
(or Pay-Per-Click)
I'm going to only talk about sponsored search here because this is where I start all my clients.  It is the fastest, least expensive path to the first page of a Google search.  As a result, you can get your message in front of people when they want to either educate themselves about what you sell, or buy it.  Either way, that's a pretty good deal.  Spend your first marketing dollar on PPC, and your last.  It shouldn't be the only thing you do, but it's the most important thing you do.
I pretty regularly hear, "Oh we tried that and it didn't work" when I first bring up the subject of PPC.  Please, don't let that make you believe it doesn't work.  That simply means how you tried it didn't work.
Being first page on Google on an organic search should be the goal of every marketer working.  But you can't get there without first being successful at PPC.  It generates traffic immediately.  It is your laboratory to discover which terms pull best, which produce the real prospects and how to create response from people once they are on your site (conversions).
I'm a Qualified Google Adwords Professional (GAP) and a Google Certified Adwords Partner.  And while there are MANY people out there who would love to manage your Adwords account, there are not many certified people out there and even fewer with my direct response marketing background.  Which is precisely what sponsored search is, direct response marketing.

Hamilton has been our Virtual Director of Marketing for two and a half years. He accomplished a few things immediately; like improving our website's performance and engineering a remarkable turnaround of our Google Adwords campaign. More importantly, he's helped us find our voice and express it with clarity in everything we do. It's a great feeling to know you can be real and transparent with customers and gratifying to watch it translate into sales.
Cliff Batson, COO PERRLA Software, Murfreesboro, TN